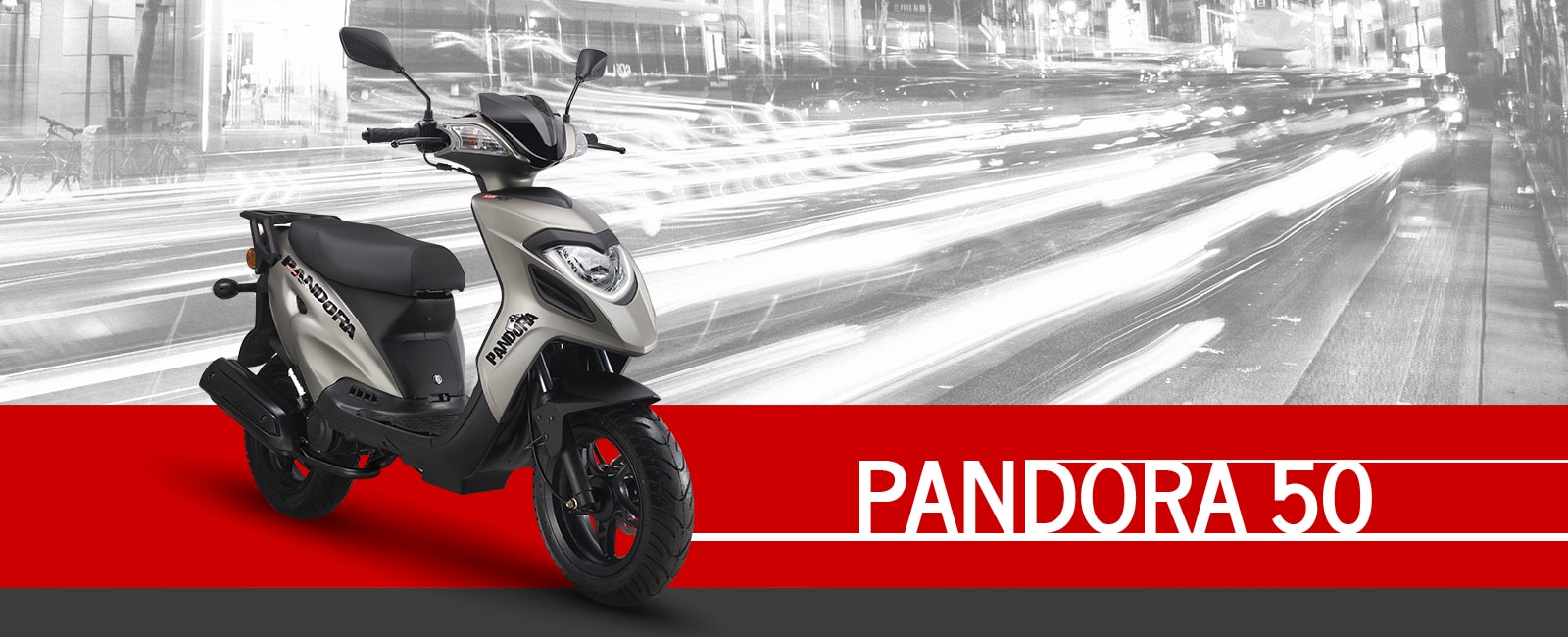 KSR MOTO Pandora 50
Prawdziwy hit KSR MOTO Pandora 50 to twój początek w prowadzeniu serii modeli KSR MOTO. Stać cię na niego bez rezygnacji z wielu luksusowych detali..
Starannie przetestowany 50-cm skuter KSR MOTO Pandora 50 to twój początek serii modeli KSR MOTO. Jednak, zwyczajowo, KSR MOTO, choć niedrogi, nie znaczy, że jest niskiej jakości. Dynamiczne kształty i eleganckie matowe wykończenie nadają temu skuterowi unikatowy charakter. Detale takie jak perforowana tarcza przedniego hamulca, światło postojowe LED i zintegrowane światła kierunkowskazów przewyższają wizualnie wiele znacznie droższych pojazdów. Nie należy się zatem dziwić, że KSR MOTO Pandora 50 jest jednym z najlepiej sprzedających się skuterów w wielu krajach.
W roku 2018 ten popularny skuter otrzyma nowy, niskoemisyjny, czterosuwowy silnik, który, oczywiście, spełnia europejski normę Euro 4 dotyczącą emisji spalin.
Dane
Model:
KSR MOTO Pandora 50 4T
Obraz:
Typ silnika:
4-suwowy, chłodzone powietrzem
Pojemność:
50 cm³
Max. moc:
2.3 kW @ 6,500 rpm
Przekładnia:
CVT
Waga:
95 kg
Hamulce:
Przód: tarczowe
Tył: Bebnowe
Opony:
Przód: 120/70-12
Tył: 130/70-12
Ilość miejsc:
2
Norma emisji:
Euro 4
Zużycie paliwa:
2.0 l/100 km
Emisje CO2:
46 g/km
Kolory:
Szara mata
Dostępny w następujących krajach:
Andorra, Belgium, Croatia, France, Germany, Italy, Luxembourg, Monaco, Netherlands, Poland, Portugal, San Marino, Spain, Sweden