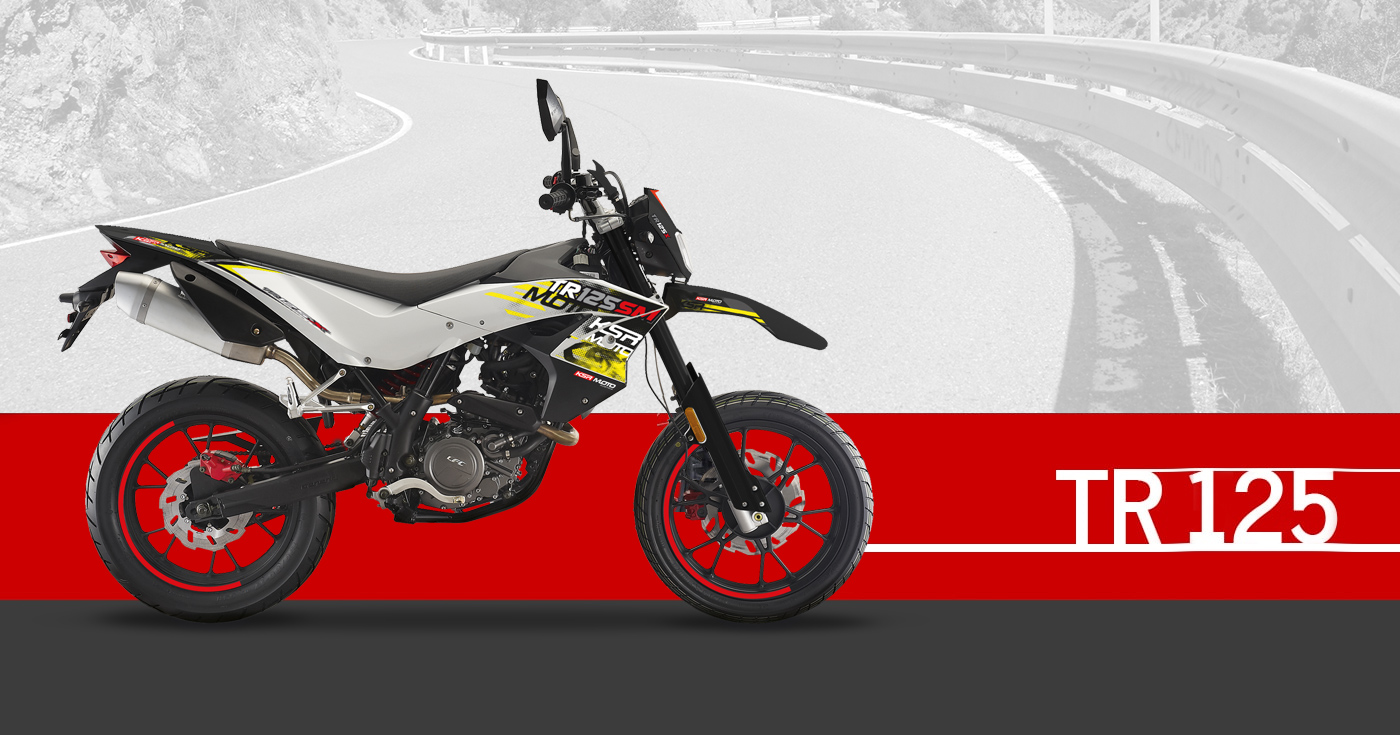 KSR MOTO TR 125 SM & TR 125 X
The KSR MOTO TR 125 is the first model to be powered by the water-cooled 125 cm³ four-stroke engine developed by KSR's R&D department. With a maximum output of 10 kW, it is one of the most powerful models in its class.
The creative minds of KISKA Design created the unmistakable and sophisticated design of this unique motorcycle, which is available in a Supermoto version (SM) and a Cross version (X).
The top model for beginners – in Europe from 16 years with the A1 driving license to drive!
Technical Data
Model:
KSR MOTO TR 125 SM
KSR MOTO TR 125 X
Image:
Engine:
4-stroke, liquid-cooled
4-stroke, liquid-cooled
Capacity:
124.4 cm³
124.4 cm³
Max. power:
10 kW @ 10,000 rpm
10 kW @ 10,000 rpm
Transmission:
6 gears
6 gears
Weight:
140 kg
140 kg
Brakes:
Front: Wave disc
Rear: Wave disc
Front: Wave disc
Rear: Wave disc
Tyres:
Front: 100/80-17 or 90/90-19
Rear: 130/70-17 or 110/90-17
Front: 100/80-17 or 90/90-19
Rear: 130/70-17 or 110/90-17
Number of seats:
2
2
Emission standard:
Euro 4
Euro 4
Fuel consumption:
3.5 l/100 km
3.5 l/100 km
CO2 emissions:
81 g/km
81 g/km
Colours:
White-Yellow, Black
White
Available in the following countries:
Andorra, Austria, Belgium, France, Germany, Italy, Liechtenstein, Luxembourg, Monaco, Netherlands, San Marino, Spain, Switzerland