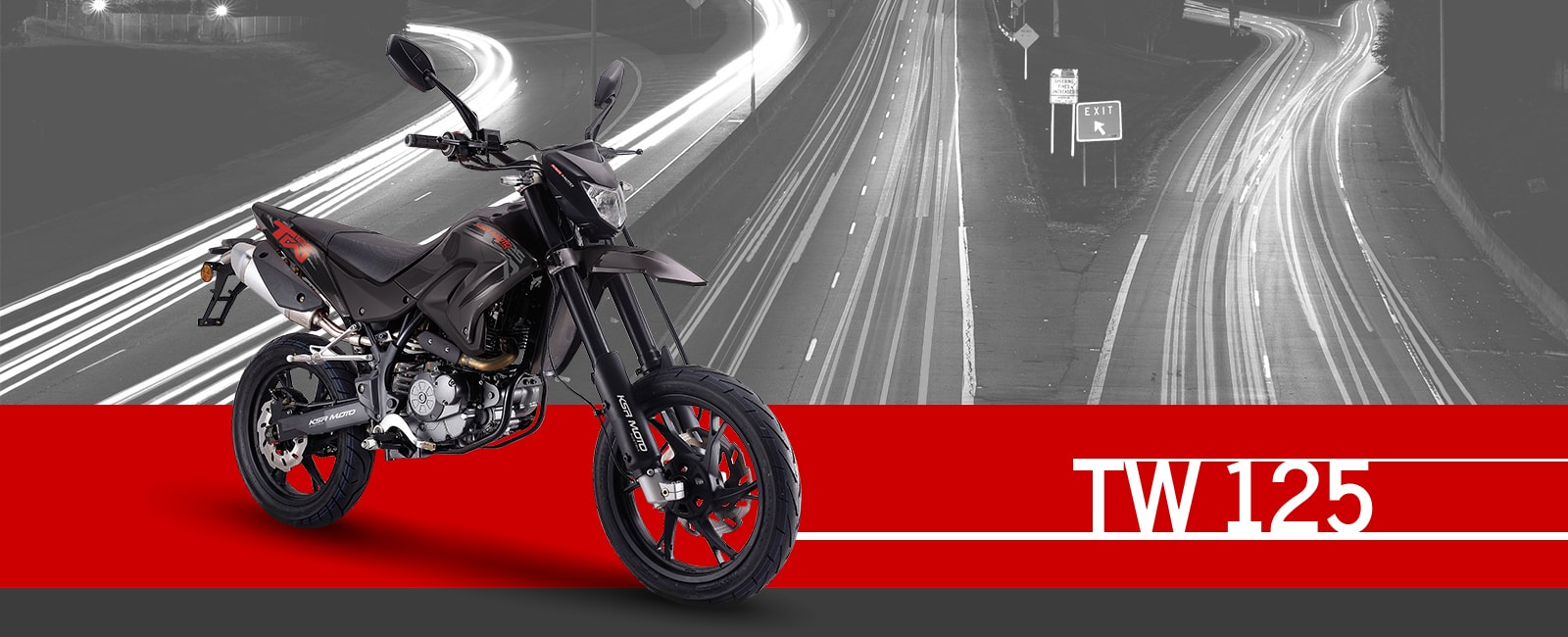 KSR MOTO TW 125 SM & TW 125 X
The KSR MOTO TW 125 is available in both a super moto and in a Cross variant and is a favourite for all young people (from 16 with the A1 driving licence!) and the young at heart. Available as Supermoto (SM) and a Cross (X) version.
With its dynamic design and sharp lines, it is clearly visible from a distance as a typical KSR MOTO vehicle.
Also typical for KSR MOTO is the extensive standard equipment: Upside-down fork with dirt deflector, wavedisc brakes, LED turn signals, and the LCD speedometer are always there.
And you are spoiled for choice when it comes to tyres: while the KSR MOTO TW 125 SM super moto variant relies on comfortable road tyres, the tread tyres on the KSR MOTO TW 125 X cross-variant make them ideal for use on unpaved roads.
The KSR MOTO TW 125 SM is powered by a tried-and-tested, low-maintenance air-cooled engine that uses just 1.9 litres (standard fuel consumption) per 100 kilometres. It isn't only young drivers for whom this is exciting!
Technical Data
Model:
KSR MOTO TW 125 SM
KSR MOTO TW 125 X
Image:
Engine:
4-stroke, air-cooled
4-stroke, air-cooled
Capacity:
125 cm³
125 cm³
Max. power:
8.0 kW @ 9,000 rpm
8.0 kW @ 9,000 rpm
Transmission:
5 gears
5 gears
Weight:
138 kg
138 kg
Brakes:
Front: Wave disc
Rear: Wave disc
CBS (Combined Braking System)
Front: Wave disc
Rear: Wave disc
CBS (Combined Braking System)
Tyres:
Front: 100/80-17
Rear: 130/70-17
Front: 90/90-19
Rear: 110/90-17
Number of seats:
2
2
Emission standard:
Euro 4
Euro 4
Fuel consumption:
1.9 l/100 km
1.9 l/100 km
CO2 emissions:
44 g/km
44 g/km
Colours:
White, Red, black
White, Red, black
Available in the following countries:
SM: Andorra, Austria, Belgium, Czech Republic, France, Germany, Hungary, Ireland, Italy, Luxembourg, Monaco, Netherlands, Portugal, San Marino, Slovakia, Spain, Switzerland, UK
X: Andorra, Austria, Belgium, France, Germany, Italy, Luxembourg, Monaco, Netherlands, Portugal, San Marino, Spain